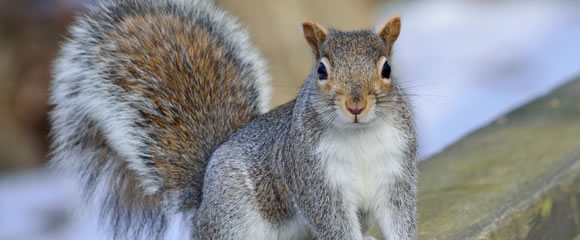 Squirrel removal in New Jersey is a common call that we get in the spring and fall of the year in all areas of New Jersey. We are the leader in Squirrel removal and squirrel control and have been servicing all parts of the east coast for over 20 years. Some of the major problems that squirrels will cause thru the entire state of New Jersey is squirrels in the attics and squirrels in the walls. Squirrels are curious creatures and will get themselves in trouble just by being nosey. The first thing that people will notice is squirrels running back and forth on their roof of the house. The second thing that a homeowner will notice is sounds coming from the attic area of the home, this usually is when it is first determined that a squirrel has found his way into your home.
I have squirrels in my attic, what do I do?
Simple, call a expert squirrel removal professional, Squirrels will usually only use the attic area of a home to build a nest and have their babies, sometimes they will find their way into a wall cavity, but most of the time, they will stay in a attic area. Once the squirrel has made its way into the attic area, it then starts the nest building procedure, this often requires the squirrel to bring objects in from outside, if no items are available for the squirrel to bring in, it will pile up your insulation in large mounds and then hollow out the middle. Making a nice quiet comfortable place for the squirrel to have its babies.
Babies? Squirrel babies in my attic!
There is nothing on the planet as frustrating as having baby squirrels in the attic area of your home, Baby squirrels will start to scurry around when they are approximately 4 weeks old, they will run and jump throughout the entire attic. The difficult part is the are almost impossible to catch when they are in this very early stage of life. They are still drinking milk from their mother, so there is no bait that will catch them, and if they do enter a trap, they are so lite; they will not set it off. The best way to keep this from happening is to attack the problem when you first discover it. Call when you first notice the noise!!
If you have baby squirrels in your attic, it may be up to 4 weeks of trying to catch the animal before you can say, the problem is solved. That's a long time and many sleepless nights waiting for the squirrels to become old enough to catch.
We caught the squirrel, now what?
The only true way to solve a squirrel problem is first remove the squirrels that are there, then have the house excluded. A house exclusion is a process that seals up all areas that potentially will allow a squirrel or any other animal inside a house, all areas are typically sealed including the attic area and the crawlspace of the home. This assures the company that there is no way a animal can enter a home and thus we can present you with a warranty for your home, If you do not have a exclusion done, there is no way we can warranty your home against future wildlife infestations. Ask your New Jersey Wildlife Removal Technician about the possibility of having your home excluded from squirrels and other wildlife.
Some of the areas we service and services we offer are:
Bernards Squirrel Removal We Service all areas Near Bernards, NJ
Bridgewater Squirrel Removal We Service all areas Near Bridgewater, NJ
Chatham Squirrel Removal We Service all areas Near Chatham, NJ
Clifton Squirrel Removal All Clifton, NJ
East Orange Squirrel Removal Serving all of East Orange, NJ
Edison Squirrel Removal Serving all of Edison, NJ
Elizabeth Squirrel Removal Serving all Elizabeth, NJ
Franklin Squirrel Removal Serving all of Franklin, NJ
Freehold Squirrel Removal Serving all of Freehold, NJ
Jersey City Squirrel Removal Servicing all of jersey City, NJ
Manchester Squirrel Removal Servicing all of Manchester, NJ
Middletown Squirrel Removal Servicing all of Middletown, NJ
Millburn Squirrel Removal Serving all of Millburn, NJ
Montgomery Squirrel Removal Serving all of Montgomery, NJ
New Brunswick Squirrel Removal  Serving all of New Brunswick, NJ
Newark Squirrel Removal Serving all of the Newark, NJ area
Paramus Squirrel Removal Serving all of the Paramus, NJ area
Passaic Squirrel Removal Professional service to all Passaic County, NJ
Paterson Squirrel Removal Professional service to Patterson, NJ
Perth Amboy Squirrel Removal Serving all of Perth Amboy, NJ
Plainfield Squirrel Removal Serving all of Plainfield, NJ
Trenton Squirrel Removal Servicing all of Trenton, NJ
Union Squirrel Removal Serving all of the Union, NJ area
Westfield Squirrel Removal Serving all of Westfield, NJ
Woodbridge Squirrel Removal Serving all of Woodbridge, NJ