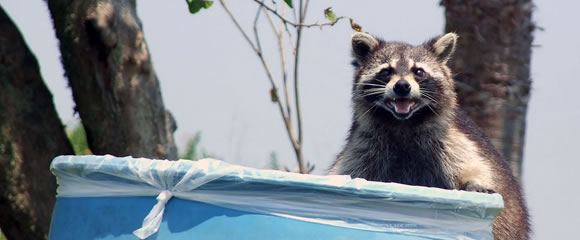 Raccoon Removal in New Jersey
Raccoon are one of the most destructive animals we deal with on a dailey bases. Raccoons are very capable animals and can use their paws just like us humans use our hands!
Raccoons can be a very difficult animal to try and keep out of a home or building, They are very strong and with the combination of their pure strength and the ability to use their paws as hands makes these wild creatures very difficult to deal with.
What are some of the problems that raccoons cause?
Raccoons are notorious for finding their way into the attics and crawlspaces of people's homes or buildings, once inside the raccoon will totally wreck a attic area, they will destroy the insulation and duct work that is ran thru the attic cooling the house. Once they destroy the duct work and they have made themselves at home, they will start to build a nest, the nest usually consists of insulation from the attic or crawlspace that has been moved to one certain location. Once all the insulation has been piled up, the raccoon will lay in the middle of it, smashing it down in the middle, making a nice hollow void all around the raccoon.
Why is the Raccoon tearing up my attic?
Answer is pretty simple, the raccoon is looking for a place to have her babies, Raccoons are very adaptive, in nature, raccoons will have their babies in trees, but when a city pops up or a housing devolvement takes away the natural habitat of the raccoon, the coon has no other choice than to build the "nest" in the only place available, your attic or your crawlspace. The destroying of the duct work is usually the first thing that the raccoon tears up, The raccoon is trying to circulate some air in the attic, the second thing that gets destroyed is the attics insulation.
I had raccoons in my attic, what's wrong with my insulation?
When a raccoon gets into the attic areas of a home, the raccoon will first use the insulation as a means of getting nesting material, if the insulation is not used as nesting material, it is usually contaminated with either urine or feces. This is a really severe problem as raccoon feces is known to harbor spores and other fungus which causes many different Respiratory illnesses. Some of the known illnesses are
Leptospirosis
Leptospirosis is a disease caused by Leptospira bacteria that are carried in the urine of rats, raccoons, and some other animals that is found in NJ. People and animals can get infected when water contaminated with urine of infected animals gets on their skin, or in the nose, mouth, throat, or eyes, or is swallowed
Raccoon Roundworm
Many raccoons in New Jersey carry a roundworm called baylisascaris. Infected raccoons pass baylisascaris eggs in the feces. Other animals and people can get infected if they accidentally swallow the eggs in soil or water
Rabies
Rabies is a disease caused by a virus and it is almost always fatal. It is spread through a bite by an infected animal. Although rare, it can be spread through infected saliva getting into an open wound of humans. This is rare in New Jersey.
We are the professionals in the new Jersey area, we have been doing wildlife removal in this area for over 20 years. Give us a call to receive your free home inspection today!
Some of the places we offer service in and some services we offer are:
Newark Raccoon Removal
Bridgewater Raccoon Removal
Clifton Raccoon Removal
East Orange Raccoon Removal
Edison Raccoon Removal
Elizabeth Raccoon Removal
Franklin Raccoon Removal
Freehold Raccoon Removal
Jersey City Raccoon Removal
Manchester Raccoon Removal
Middletown Raccoon Removal
Millburn Raccoon Removal
Montgomery Raccoon Removal
New Brunswick Raccoon Removal
Newark Raccoon Removal
Paramus Raccoon Removal
Passaic Raccoon Removal
Patterson Raccoon Removal
Plainfield Raccoon Removal
Trenton Raccoon Removal
Westfield Raccoon Removal