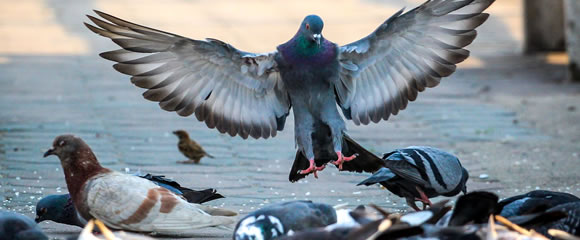 Birds such as House Sparrows, Pigeons, Grackles, English Sparrows and many other types of birds find a ways to get themselves into trouble. They will build nests in the most uncommon places, such as Starbucks signs, as pictured above, They will also make their nests in bathroom vents, they will build nest in Kitchen vents and other areas that are inaccessible to humans, and make a perfect place to nest away from harm.  There are many types of birds in New Jersey and most all of them are listed on the pest bird list. Birds are responsible for millions of dollars of damage annually.
Birds are responsible for many diseases in and around the state, Birds are know carriers of the following diseases.
Chlamydia psittaci Infection (psittacosis)
A bacterial disease associated with pet birds, including parrots and parakeets. Recommendations and Reports MMWR.
Cryptococcus Infection (cryptococcosis)
A fungal disease associated with wild-bird droppings, including those from pigeons.
Salmonella Infection (salmonellosis): A bacterial disease associated with many birds, especially chickens, baby chicks, and ducklings.
All of these disease can have fatal effects on humans, you should take any measures necessary to rid yourself or your company of pest birds.
Some of the placs and services we offer in New Jersey are:
Newark Bird Removal
Bridgewater Bird Removal
Clifton Bird Removal
East Orange Bird Removal
Edison Bird Removal
Elizabeth Bird Removal
Franklin Bird Removal
Freehold Bird Removal
Jersey City Bird Removal
Manchester Bird Removal
Middletown Bird Removal
Millburn Bird Removal
Montgomery Bird Removal
New Brunswick Bird Removal
Newark Bird Removal
Paramus Bird Removal
Passaic Bird Removal
Patterson Bird Removal
Plainfield Bird Removal
Trenton Bird Removal
Westfield Bird Removal